If you're looking for an outing, a movie is always a good option, but if you're looking for something extra fun, why not go to the DRIVE-IN?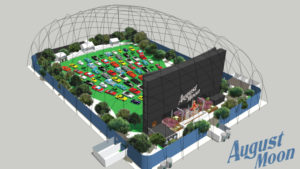 The latest news in town is that we're getting an indoor drive-in movie theater! The August Moon Drive-in will be located in East Nashville near Nissan Stadium. If you're wondering how you could have an indoor drive-in, think of it as a sound stage for a film set complete with 50 classic cars, full-sized trees, grass, hammocks, the smell of a spring meadow, chirping crickets, and fireflies. There will even be a starry sky projected on the ceiling of the 40,000 square-foot air supported dome.  The theater will also boast the largest non-IMAX movie screen in the North America.
The venue will serve food and full bar along with multiple dining areas, private "tree house" event and party spaces, and a separate lounge that features live music programming before and after the movie. There will always be a August "Sailor's Moon" just above the tree line. Sounds fun right?!
August Moon Drive-In is slated to open in the Summer of 2018, but you don't have to wait until then to get your drive-in move fix!
Just 30-45 minutes outside of Nashville in Watertown, Tennessee is the Stardust Drive-in. It's a classic (outdoor) drive-in movie theater with a variety of titles and an excellent snack bar.  I took my kids and was impressed by the selection of the burgers, fries, funnel cakes, fried mushrooms, Philly cheese steak sandwiches, freshly cooked personal pizzas, and more. It's a great night date night or an outing with the kiddos. You tune your car radio to a particular station and the sound from the film comes right though your car stereo. Some people stay in their cars and some sit out on blankets on the ground. If you're lucky enough to have a pick-up truck, you can get really comfy!
And how much is this outing? Adults, $8.00… Kids 6-11, $6.00… Children 5 and under, are ALWAYS FREE and those ticket prices are for TWO movies. I know. It"s a steal.
The season kicks off on March 3rd and run Friday, Saturday, and Sunday nights, but as soon as we get to Memorial Day the drive-in is open 7 days a week (weather permitting).
Get more info and movie schedules at The Stardust Drive-In website.