Belle Meade puts the "estate" in real estate. The properties in this spectacular neighborhood are grand. Large, lush lots with elegant homes in a variety of architectural styles wrap around the crown jewel of Nashville parks, Percy Warner. Belle Meade Real Estate is Nashville luxury living at it's finest.
Belle Meade Living
The 3.1-square-mile city is home to approximately 3,000 residents, and the per capita income is by far the highest in the state of Tennessee (and among the highest in the nation). Only 9 miles from bustling downtown Nashville and minutes from Nashville's premier shopping destination The Mall at Green Hills, Belle Meade feels like a oasis in the heart of the city. Elegant homes are accented by stunning mature trees including the Flowering Dogwood, Sugar Maple, Southern Magnolia, and Black Walnut to name a few…
Belle Meade Plantation
The city of Belle Meade takes its name from Belle Meade Plantation, known as the "Queen of Southern Plantations." The plantation began in 1807 and in 1853, the house was altered and enlarged into a Greek-Revival style mansion by General William Giles Harding. Five United States presidents have enjoyed the renowned hospitality of the Harding and Jackson families. As the premier thoroughbred racing and breeding farm in the South for over a century, the 5,400 acres that made up the Plantation were home to some of the greatest horses in racing history. Today the Plantation is open seven days a week for visitors, and the historic mansion is open for guided tours and private rentals for weddings and special events.
Ready to take a look at Belle Meade Real Estate?
If you are searching for a substantial home on a roomy lot with the convenience of close proximity to downtown Nashville, I would love to personally show you this magnificent neighborhood.
Sarah Jane Nelson, Realtor/Founder Everybody Loves Nashville.com
Mobile (615) 500-9513
SarahJane@EverybodyLovesNashville.com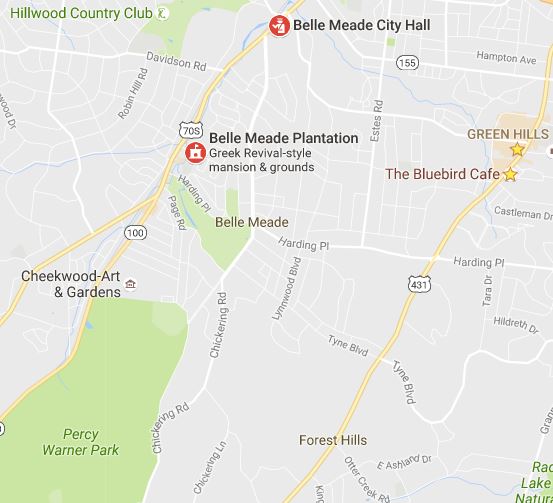 Nashville Neighborhood Map